Review of Serow 250(XT250), after 50,000 km in 6 years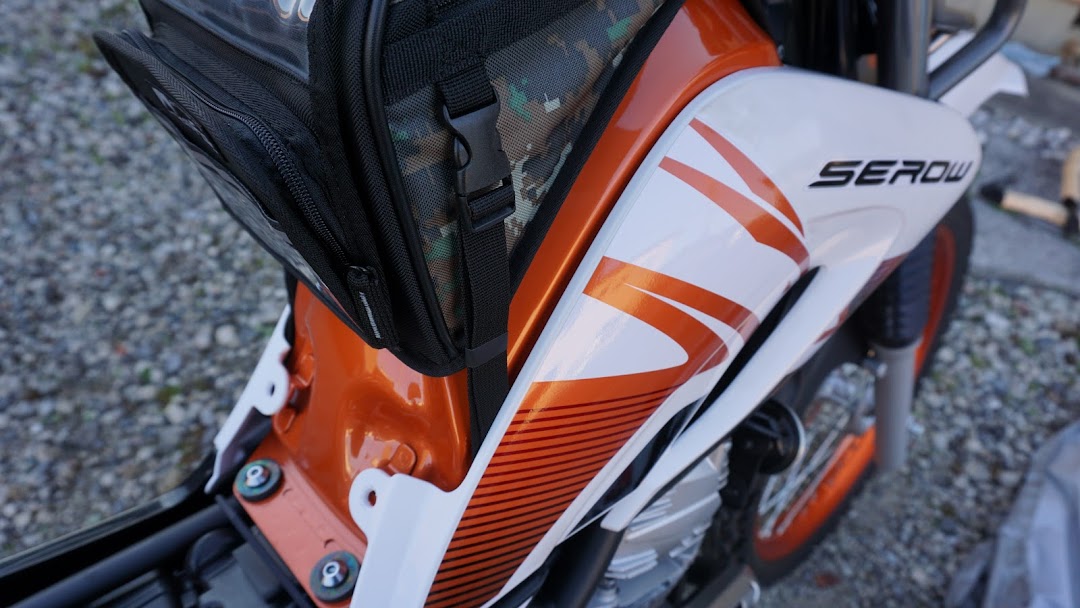 Kaoru Sugiura
I have had two Serow 250s.
A 2013 that I sold and a 2019 that I currently have.
It has been 6 years since I was a student and counting. I have driven more than 50,000 kilometers in distance.
It is my partner who has driven me from Wakayama in the south to Oma in Aomori in the north, on circuits, over sections on trial courses, and on highways, forest roads, and animal trails.
It is regrettable that the production of such a Serow 250 has been announced to be discontinued.
The price of used bikes has skyrocketed, so if you are wondering what to do, please hurry up and visit a store.
This time, I would like to review my long-time rider, the Serow 250.
I've ridden two different Serow 250s, one orange and one green (technically, the second one is a touring Serow), so the photos are mixed up, but they are all my photos.
By the way, I hope you will take a look at the link below for a summary of some of the customization I did while riding the Serow 250, and I hope you will take a look at it with me.
The good thing about the Serow 250
High fuel economy, averaging 37 km/h and maxing out at 47 km/h
Fuel economy of the Serow never drops below 35 km/h in city driving.
I am a fuel-efficient touring rider, and my average fuel consumption is 37 kilometers per liter.
Once I go out for touring, I can often easily exceed the catalog fuel economy.
By the way, the highest fuel consumption ever recorded was 47 kilometers per liter.
This is more fuel-efficient than a little Cub with a bored-up engine.
The cruising range is over 300 km, which is long for a trail vehicle.
(The photo was taken on a road in the Nankaihama district of Kamisu City, Ibaraki Prefecture.
In the case of the Serow 250, the tank capacity is 9 liters.
By the way, the 2013 model had 9.6 liters.
Trail models from domestic manufacturers sold as of 2020 include the CRF250L and the KLX230, both of which have a tank capacity of about 7 liters, and with the exception of the CRF250ARRY, the Serow 250 has a large tank capacity.
The relatively large tank capacity of the SEROW 250㏄ trailers, combined with the aforementioned low fuel consumption, puts it in the category with a long cruising range.
The longest distance I have traveled without refueling was 368 km from Toyama City to Shizuoka City without refueling.
The long range has the great advantage of not having to worry about gas stations.
Gas stations have been closing one after another in recent years.
This can lead to staring at the meter, especially when touring in unfamiliar territory.
The long cruising range is especially reassuring for a novice like myself, who gets nervous when the refueling light comes on, making it difficult to go touring.
Good footing and no difficulty for short legs or women
Straight road like Hokkaido in Oogata Village, Akita Prefecture
The seat height of the Serow 250 is 830 mm.
This seat height is outstandingly low for an off-road bike.
Of course, the seat is in the high category compared to on-road bikes, but when you actually straddle it, you will not feel it is as high as the number.
Take a look at the picture below.
I am 166 cm tall and have short legs, but as you can see, with boots on, I have one foot on the ground.
The narrow seat width of the Serow and other off-road motorcycles, and the suspension sinking into the ground, make it very easy to get a good footing.
However, it is a little tough to have both feet on the bike.
The weight is light, so as long as one toe is attached, you should have no problem riding the bike.
This is evident from the fact that even a female acquaintance of mine who is in the 150cm range can ride it without any difficulty.
Can be transformed into a touring serow
Yamaha's touring serow.
It is a special package that adds touring-oriented options to the Serow 250.
It comes with options such as an underguard, screen, and knuckle guards.
When I bought my 2013 model, I got just a Serow 250.
However, as I bought more and more parts for long touring trips, I ended up with a bike that was much more like a touring Serow.
Therefore, for the 2019 model, I ended up buying a touring sero.
The Touring Serow comes with a variety of options as mentioned above.
One of the ones I like the most is the Adventure Rear Carrier.
[itemlink post_id="3480″]
It has a load capacity of 10 kg and is equipped with a load bed as big as a cutting board.
I went on a camping tour around Tohoku and was saved by the size of this carrier.
I even returned home with a shelf I bought at Nitori strapped to the Adventure rear carrier.
Also, regarding my recent Fukushima touring, I drove 600 km round trip from Aichi to Fukushima on the highway with a huge homestay box attached.
Aizu Bandai is a treasure trove.
Low-speed torque that helps both in town and on forest roads
A dead-end forest road at the back of Umegashima Onsen in Shizuoka (I heard the Umegashima-Amehata line was recently opened)
The low speed torque of the Serow is fantastic. That's one word for it.
It starts running on its own if you slowly engage the clutch at idle.
Even if it knocks, if you open the throttle, it will accelerate with a rattle.
I once lent my Serow to an acquaintance of mine who rides a TS125 when we went to a forest road.
He said, "I can't believe how easy it is to go on a forest road! He was upset.
As I will explain later, this low-speed torque is very useful on forest roads.
This torque is also useful for city driving.
I am a lazy rider, so sometimes I forget to shift back a gear at a stoplight and start the bike in 4th gear.
Even so, the bike seems to start running normally, so I don't have to worry about riding it in town.
Anyway, the sense of security when starting off is different.
Beginners and veterans alike can enjoy off-road riding.
Kashinoki Pass Forest Road in Shizuoka It is a mystery why this forest road is not listed in Touring Maple.
If you buy a Serow 250, you should go to the forest road at least once.
The good footing, lightness, softness of the frame, and low-speed torque will help beginners.
If you ride off-road with a toco-toco, you will soon feel the beauty of nature.
A person like myself, who is not very good at it, will at best waddle and manage to progress through difficult terrain with both feet on the ground.
However, as mentioned above, the low seat height of 830mm and low-speed torque will allow two feet and two wheels to make solid progress.
It is not like the WR250R, where you have to go off-road! This is the beauty of the SEROW 250, which allows you to ride off-road at your own pace without being forced by the engine to do so.
Concerns about SEROW 250
Undeniably underpowered when touring
Slalom was a bit painful with 21 inches
The horsepower of the Serow 250 is 18 hp (*currently 20 hp), one of the lowest among 250cc models, which is half the horsepower of the YZF-R25 and WR250R.
It is undeniable that this gives the impression that acceleration is sluggish.
The engine revving acceleration of the "SEROW" is dangerous on public roads, so although it is sufficient for downhill driving, you can't help but feel boredom.
Highways are still hard to drive on.
View of the area hit by the Great East Japan Earthquake (I think it was near Rikuzentakata)
The SEROW 250 has a 5-speed transmission. In this day and age, that is.
The engine starts to suffer when the speed exceeds 80 kilometers per hour, and starts to scream when the speed exceeds 100 kilometers per hour.
Also, over 100 km/h is very scary because of the reduced weight of the front wheel.
In addition, there is a part of me that does not feel like driving long distances on the highway unless there is a screen because it is exposed to the wind.
However, it is not so much of a problem when I drive at 80 km/h without any problems.
Compared to on-road vehicles, I can't help but notice the weakness of the brakes.
On the track, the brakes and acceleration would overtake me all over the place (I'm pretty sure I'm using my serow in the wrong way).
The brakes are a lot more effective than the off-road bikes of the past, but the braking performance is not as good as the on-road bikes.
The light weight of the bike makes it impossible to stop, but it was quite scary when it came to riding with two people.
If you strengthen the brakes on an off-road bike too much, it may lock up when you take it into the woods, so this may be a good compromise, but when riding on the circuit, I had a hard time improving my time because of the brakes. (The application is completely wrong)
The suspension feels cheap.
Traveling alone on a motorcycle is fun.
The rear suspension on the Serow 250 is not excellent.
It gets loose and scuffed up quickly.
If you can afford it, I recommend tuning it or replacing it with an external suspension.
[itemlink post_id="3481″]
Overall: You only have a few days left to buy a new car, and if you don't, you're missing out!
The Serow is a good bike for beginners and experienced riders alike to enjoy without any fuss.
Although I didn't mention it above, the detailing seems to be of a higher quality than that of today's foreign-produced motorcycles.
The production of the Serow 250 has been announced to be discontinued.
It will only be available for purchase as a new model for a short time.
Just as the previous generation 225 model still retails for a good price, it will be difficult to buy a good condition Serow 250 after the discontinuation.
Now is your chance!
Anyway, if you are not sure about it, please buy it.
There is no doubt that the SEROW 250 is a great machine that you can truly feel that way about.