Is the TRX850 really a cornering machine? What the owner feels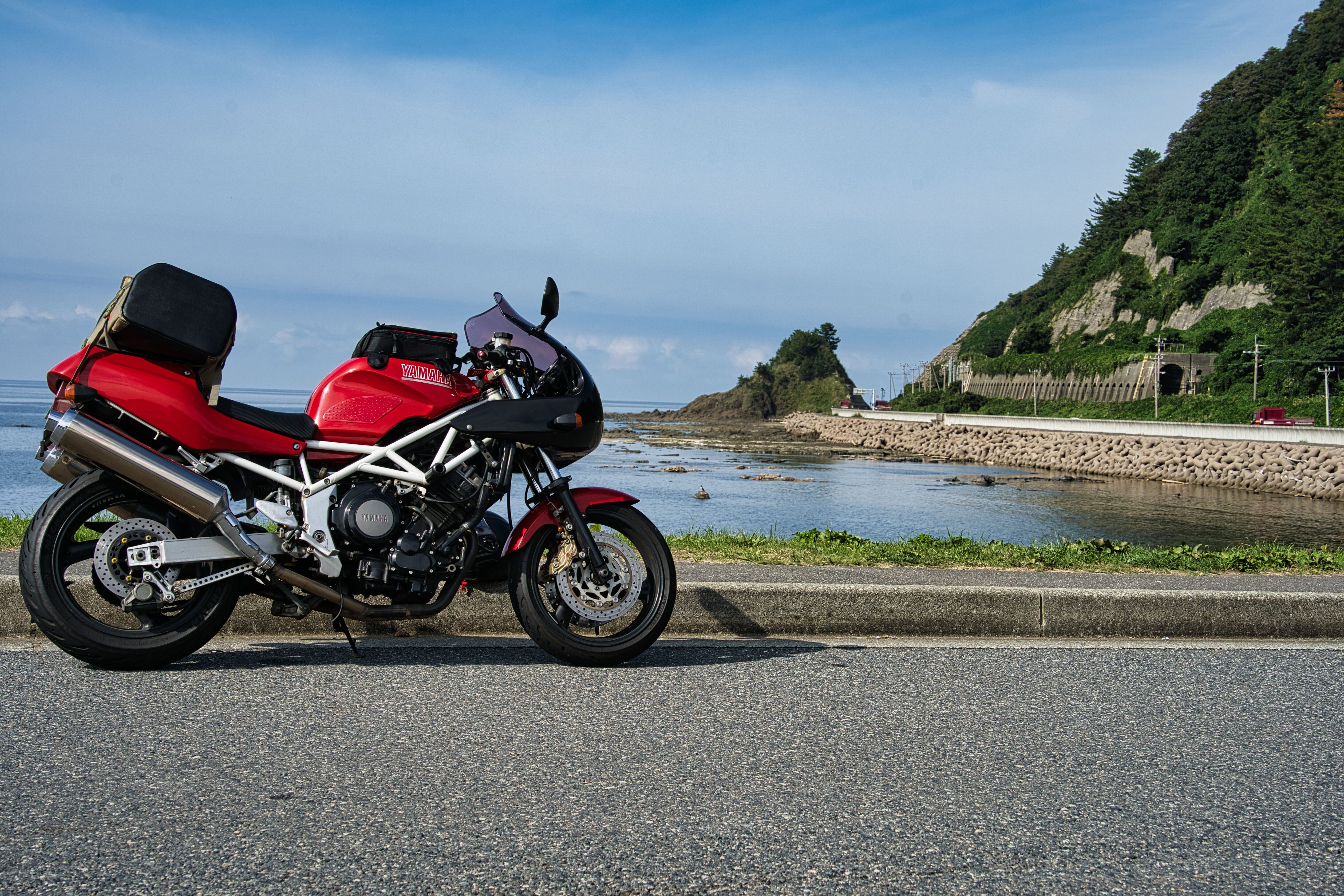 Kaoru Sugiura
This article is about the TRX850, the supposed cornering machine, "Does it really turn?"
This article explains about the
Hello, my name is Kaoru Sugiura (@munenmusou_blog).
It's been almost a year since I bought my TRX850 from Yahoo auction
This is my 10th bike in 10 years of motorcycling and my first sports bike.
We also go on long trips, but we enjoy using it to drive comfortably on nearby mountain passes.
I think, "After all, TRX850 is a cornering machine.
However, it is also true that it is a peculiar machine that is clearly suited or unsuited for different corner situations.
However, the cornering machine seems a bit different from ordinary motorcycles.
So what is the actual situation with the TRX850, which is considered to be a cornering machine? I would like to write about the TRX850 as a cornering machine.
Since an opinion based solely on myself would be self-indulgent, I will also include the opinions of my friends who ride the SS.
Tips on how to make the TRX850 bend
One of the most common impressions of the TRX850 is that it has a peculiar way of turning.
The impression of several of my friends and others who actually rode the bike was that it was not so much peculiar as it was tricky.
I am going to write some tips on how to make the TRX850 turn, which I have compiled including some of my friends who are SS riders.
put one's head to the inside
The trick to getting the TRX850 to bend cleanly is to put your head in the direction of the bend.
I am under the impression that I turn well when I let my head stick into the mirror on the cowl.
keep one's inside leg out
This is the unanimous opinion of myself and all my friends.
In the case of sport bikes, many people will probably put their inside leg out when entering a corner.
However, in the case of the TRX850, the inside leg will not bend in the opposite direction.
Even if you don't go as far as hang-off, just putting out the inside leg will prevent it from bending.
My friend's CBR929RR turns well when he puts his inside foot out. (I actually rented it and drove it and found out very well)
However, the TRX850 turns well when you lean in like a motorcycle cop, keeping your head close to the mirrors and turning without putting your inside leg out.
Situations in which the TRX850 excels
circuit driving
I don't think the TRX850 gear ratio is suitable for public roads.
It only goes into second gear for city driving, and fifth gear for top gear on the highway unless the speed exceeds 100 km/h.
High geared, which can be practically used up to 60 km/h in first gear.
While driving on public roads, I think it would be great to drive the TRX850 on a circuit.
It is a large bike that enters the power band at 4000 rpm, so I think it would be great to ride it on the Suzuka Circuit while shifting up and down in the power band.
Loose winding roads that break in at 80 to 120 km/h.
I believe that the TRX850 is a cornering machine that excels at penetrating gentle curves at 80 to 120 kilometers per hour.
There are few opportunities to take advantage of this on public roads in Japan, but the most comfortable situations are around Lake Shuparo in Hokkaido, in Minami-Shin and Akita, where there is little traffic and the roads are wide with gentle, high-speed corners.
The TRX850 is good at entering corners at a fast pace and turning solidly because of its calmness at the front.
I think the best part of the TRX850 is that you can trace the exact line you want to take and drive the curves comfortably as you wish.
King of Mountain Road "TDM900
Now, the TRX850 has a sibling, the TDM850, and a successor, the TDM900.
This bike was popular in Europe as the "King of Mountain Roads.
In Europe, "mountain roads," or mountain roads, are generally wide and have loose curves.
Considering the engine, gear ratio, and body configuration, it is probably better suited to the mountain roads of Europe.
Situations in which the TRX850 is not good at
Tight corners where speed drops below 30 km/h
There will be many situations where you will have to drive under 30 km/h on narrow prefectural roads over mountain passes.
Tight corners are also combined to make the route very difficult to drive.
In these places, off-road vehicles, motards, and knee-high sports are strong, but this is the scene where the TRX850 has the most difficulty.
The TRX850 has so much lower torque that it is hard to believe it is a large bike.
Less than 2500 rpm is dangerous without the use of a semi-crab.
In tight corners, if the rpm is not maintained by using the half-crab, it is guaranteed to be jerky.
I don't think that people who had only driven 4-engine cars would be able to drive a TRX850 on a mountain pass.
Tight corner turnaround
The technical corner with a series of left and right corners, where the driver has to raise the sunken body and then turn around again, is another situation in which the TRX850 is not good at.
TRX850 has a heavy front impression.
This is obvious compared to other SS such as CBR929RR.
As mentioned above, it feels good when banking along with a sharp curve, but I have the impression that it is not good in situations where the vehicle is swung around, due to the weight of the front end.
gymkhana
I do not want to compete in gymkhana with TRX850. (I only know enough about gymkhana to have done it for fun when I was a student…)
The reason is that the lower torque is so scanty that the car sometimes stalls and the front end is heavy.
Even if the TRX850 were converted to a barhang, it would not be suitable for gymkhana.
Overall: It is quite difficult to take advantage of the TRX850's performance on public roads in Japan.
Anyway, although it is a cornering machine, it is a bike that does not live up to its potential on Japanese mountain passes.
However, the feeling of comfort when turning is one of the best among the various bikes we have compared.
The frame has a relatively soft and flexible feel to it, which makes it feel more secure when running compared to modern, stiff SSs.
The used price is also inexpensive, so it would be interesting for use on the race circuit.