[Review] Toyota Mark X is the Last Masterpiece Middle-Class Sedan!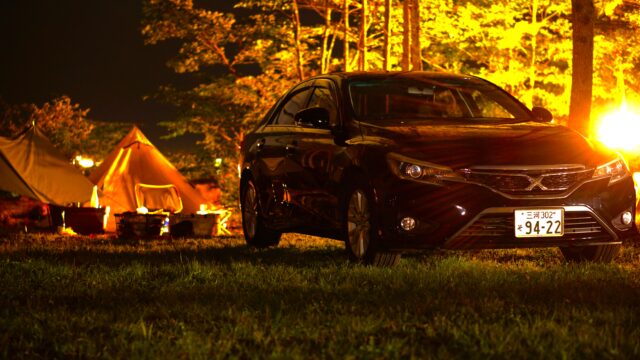 Kaoru Sugiura
The Mark X is Toyota's pride and joy, an RWD sedan.
Although it boasts a history of more than half a century since the Mark II, production has finally come to an end.
A value-priced middle class RWD sedan with a V6 engine will never be born again.
So this time, I would like to review my own car, the Mark X.
Used Mark X is inexpensive and a good target
The Mark X I bought is a 2013 250G model.
It is the mid-term model of the so-called 130 series. It is a model in the popular range as a grade.
The car I purchased was 5 years old with 20,000 km mileage.
The car also includes a genuine top-of-the-line car navigation system, and options worth about 500,000 yen such as ETC, a drive recorder, corner sensors, and door open/close interlocking mirrors.
Its price is 1.6 million yen out of the box even though it was purchased at Toyopet! (as of 2018)
It is a very cheap price.
Probably the previous owner is an elderly person.
I have the impression that it has been used very nicely. One of the best things about the old man's sedan is that the previous owner has used it beautifully.
Definitely, when you think about it in terms of driving performance and equipment, you can feel that it is a better value than buying a new mini car.
The exterior is understated yet awesome.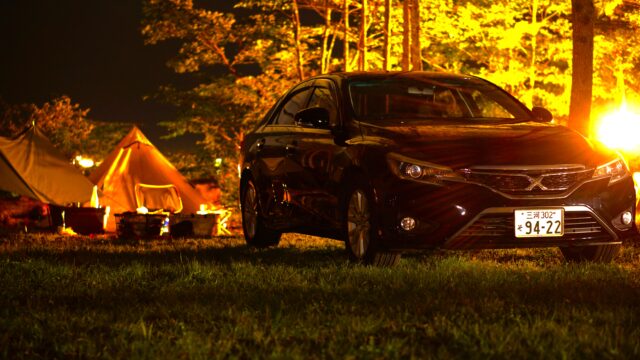 The front is swooshier than the previous model.
The position lamps are molded and glow white.
Except for the prominent X mark, it is very plain, but it is awesome.
The black color looks somewhat like a catfish.
The wheels are genuine 17-inch wheels, which are much more decent looking than the wild-looking wheels of the previous model.
From the side, it boasts an imposing physique as an RWD sedan.
The rear also has the calmness of a Toyota sedan.
The late model has smoked tails, but I like the mid model's red tails, which are also calm.
The interior is sober but sturdy.
The Mark X has a hierarchical relationship with the Crown, and although they share the same chassis, their looks are different.
The price is also nearly twice as much different, but the area where it differs most significantly from the Crown is probably the interior.
While the Crown has a luxurious feel, the Mark X's interior is very plain.
The interior of the Mark X is so simple that Crown users might mistake it for a commercial vehicle if they got into the Mark X. However, the interior is actually very simple.
However, in reality, it is excellent in terms of practicality, with numerous drink holders and a trunk-through function.
Personally, I am not so dissatisfied with the interior because I chose Mark X because of its solidity and undercover patrol car feel.
Most of all, my previous vehicle was a JB23 Jimny, so I would give it high marks no matter what I drive (except for its ability to drive on rough terrain).
Easy-to-use steering wheel and pedal area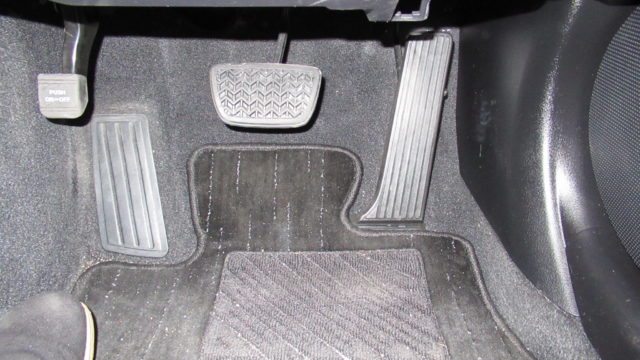 The steering wheel is equipped with volume and channel switching buttons.
I listen to music via Google Play Music using the Bluetooth function of my smartphone, and it is very convenient because I can send and receive music with a single switch on the handlebars.
The meters are orthodox analog meters.
As I wrote in my previous review of Forza, I prefer analog tachometers.
However, in this day and age of LCDs, the information panel is an OLED, which is indeed an old-fashioned design.
The ETC is housed in the lower right of the steering wheel, under the push-start button, and the lever to open the hood is located behind it.
The accelerator pedal is an organ pedal, which is rare in Toyota cars.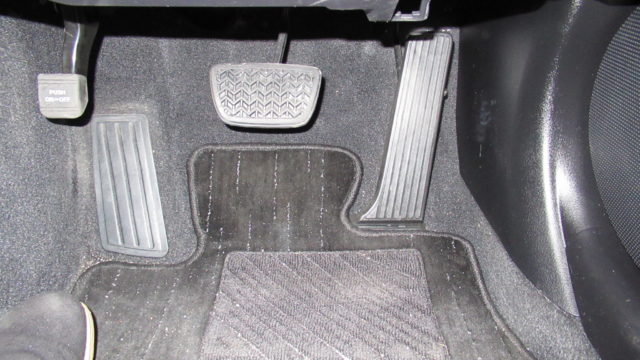 Although it costs more, it is a part that contributes to driving performance because there is less discomfort when the pedal is depressed.
As a model that encompasses the Mark 2, Chaser, and other models, it is clear from these parts that no compromises have been made in terms of sportiness.
On the other hand, as is the fate of RWD vehicles, the left footrest is a little uneven due to the propeller shaft and differential gears, and there are areas where the foot space is a little narrow.
High Driver's Availability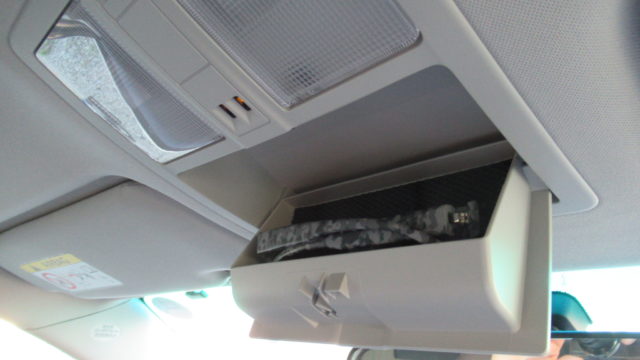 The cockpit area is not particularly luxurious, but it has enough features to meet the needs of the driver.
The ceiling also has a sunglass compartment, which is personally my favorite part of the Mark X's interior.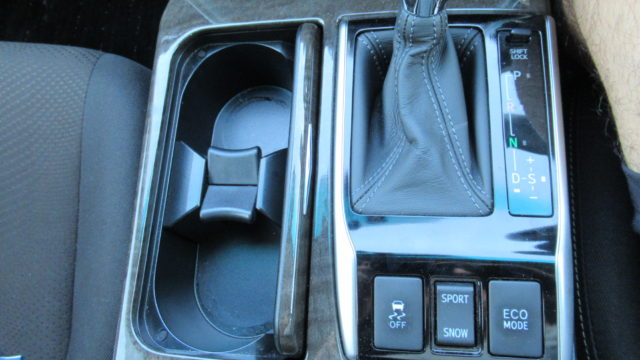 There are drink holders in the side pockets of the doors, and there is also a retractable drink holder next to the shift lever, which is how much they try to get you to drink.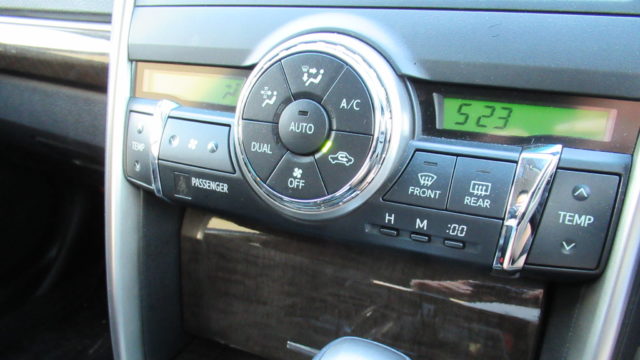 The air conditioner is a dual system. The display panel is a black-and-white LCD like a calculator even though the Heisei Era is coming to an end, but I guess that can't be helped because it is the last model year.
The rear seat is very comfortable.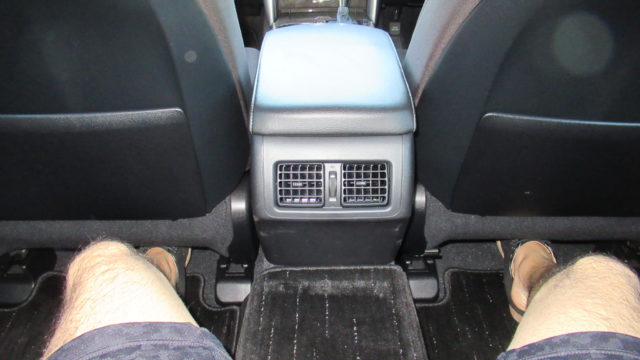 Let's sit in the rear seat.
Except for the lumpy drive shaft in the middle, there is plenty of legroom (sorry for the shin hair).
It is possible to sit with your legs stretched out enough.
I have had friends in the car and they have all commented on how comfortable it is.
There are drink holders in the door pockets and in the elbow rests as well.
As a show car, the performance is fine, and it is understandable that some people use the Mark X as a private cab.
Luggage can be carried surprisingly well, and a trunk-through function is also available.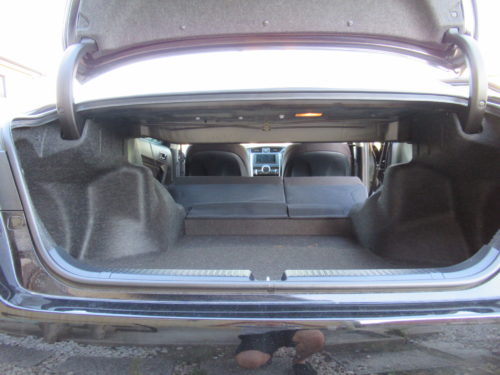 Although Mark X is a sedan, it can carry a lot of luggage.
This photo was taken when I loaded up my luggage to go auto-camping.
There is still plenty of room for a tent, a sleeping bag, three chairs, a cot, food, firewood, etc.
There is no photo, but when we went on a Shimanami Kaido bike rental trip, we were able to load camping gear and helmets for four people.
Incidentally, according to a friend who came on a Swissport trip, the trunk was full just by loading two people's luggage.
Next, inspired by the impressive scene in a noir movie where a dead body is shoved into the trunk of a sedan to be buried, I tried shoving a living friend into the trunk, but there was still plenty of space.
It seems to be able to transport about three dead bodies.
Another area where the Mark X is superior to the Crown is its trunk-through function.
By pulling the levers on either side of the rear seats, the rear seats can be folded down in a 6:4 split to load long items.
Although we have not used this function at present, it may be useful when going fishing or skiing.
However, I don't think I would want to go skiing in this car unless it is a 4WD model.
Driving Performance
No complaints about the engine in the 2.5-liter model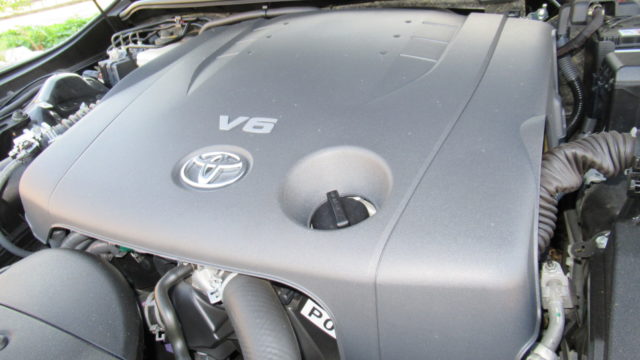 The 250G model is powered by a V6 engine, a 2.5 liter naturally aspirated engine that produces 203 horsepower.
The higher-end model boasts a 3.5-liter engine with 318 horsepower.
The engine is made by Yamaha, which is a bit of a plus for me as I prefer Yamaha motorcycles.
The question is whether you should choose the 3.5-liter or the 2.5-liter engine, but I think the 2.5-liter engine is sufficient unless you are looking for more power.
The 2.5-liter model uses regular gasoline, which is economical, and it also delivers sufficient power, so I drove it in various places and felt no particular dissatisfaction in terms of power.
It accelerates pleasantly when you step on it, and there is no sense of lack of power at all when merging onto the highway.
Fuel economy averages over 10 km/l and tops out at 15 km/l.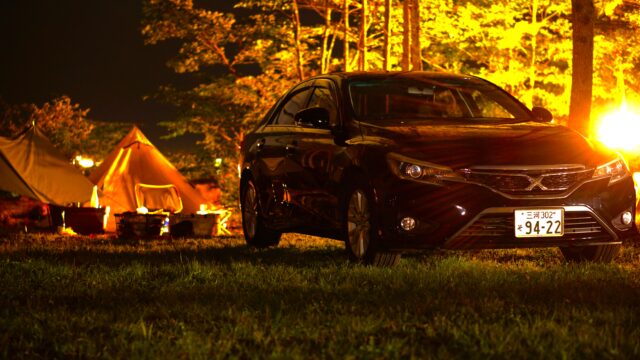 Since there is no hybrid and the V6 is a conservative engine configuration, I did not expect much in the way of fuel economy.
I do not use the Mark X for commuting, but rather for long drives, and the fuel economy is a little less than 13 kilometers per gallon.
Even when stuck in traffic in the city, the mileage is rarely less than 10 kilometers.
I think the fuel economy is relatively good for a car of this size.
If we were to hazard a guess as to the cause, we would say that it is because the engine has torque from low rpm, so there is no need to step on it too much.
Also, since the engine brake is weak, the car can be driven with the foot off the accelerator pedal when it reaches a high speed, so it seems to consume less fuel in this respect as well.
The engine runs better in Sports mode.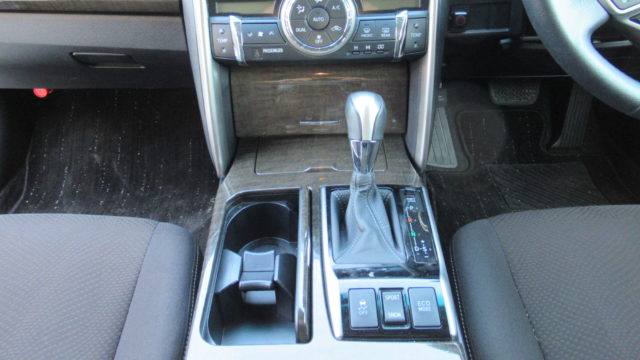 The Mark X is equipped with four modes, including normal mode.
I don't use Eco mode because it doesn't increase fuel economy even though acceleration has become boring.
Snow mode gives the impression of stronger traction control and the tires no longer spin on gravel roads, but I don't want to drive this car on snowy roads, so I don't know how good it is.
The sport mode makes the car blow up like a different thing when you step on the accelerator pedal, and it is very pleasant to drive as if you are riding a motorcycle.
When driving on winding roads, I often actively put the car in Sports mode.
I feel that the sport mode is practically the only mode for the Mark X….
Impressions from actual driving with Mark X
I have driven in various situations with Mark X.
As I drove, I strongly felt that the Mark X is a sedan optimized for driving in Japan.
The size, small turning radius, suspension, and everything else is definitely adjusted to the size and speed range of Japan.
No complaints about city driving, and the small turning circle makes it easy to drive on narrow roads.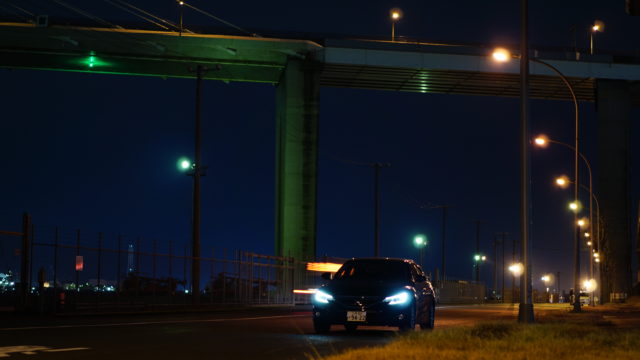 When driving in the city, the power of the Mark X is not stressful at all.
Even on roads with a lot of stop-and-go traffic, once accelerated, the aforementioned weak engine braking allows the driver to take his/her foot off the accelerator pedal and control the speed with only the brake.
In addition, in normal mode, there is no shock when the accelerator pedal is depressed and gentle acceleration is possible, so there is no stress to passengers.
Braking is also gentle and allows for elegant deceleration, far from the clunky braking of a probox.
In addition, the Mark X is RWD and handles well, making it easy to turn in small circles.
Many local roads are one-way or barely passable by one car, but we can get through such roads without difficulty.
I'm not so good on winding downhill roads.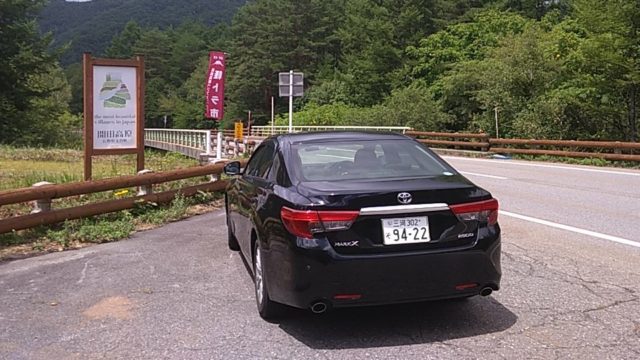 What I feel when driving on winding roads is that it is pleasant to go around curves.
The straightforward handling of the RWD model gives you a sense of security.
The engine power is also strong, providing excellent stability when climbing.
On the other hand, I got the impression that it is not so good at descents.
The suspension, which emphasizes ride comfort, shakes the vehicle on downhill curves, and the gentle brakes, although effective when depressed, are a bit insecure.
I think this is unavoidable to some extent due to the weight of the car.
Highway cruising is so comfortable that passengers fall asleep easily.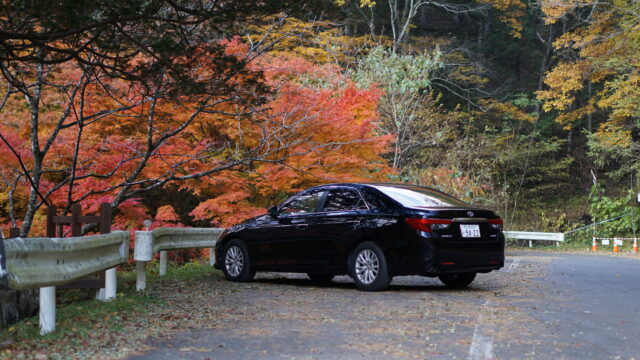 Highway cruising is probably the situation in which the Mark X excels the most.
The long body and wide tread of the sedan means that even in strong winds, the car does not steer at all.
Straight line stability is high, and there is no problem at all at speeds of around 100 km/h.
The interior is so quiet that you can listen to classical music while driving at 100 km/h.
I sometimes take friends and seniors on long-distance drives, and they all say in unison, "This car is so quiet! They all say in unison, "This car is so quiet!
And, as an unexpected effect, I am not agitated by following cars at all.
Since the Mark X is also used by undercover police cars, it is difficult to be agitated at high speeds.
Often there is a queue behind me.
A car cautiously passing me from the passing lane looks at my face and says, "What, you're not a cop! and accelerate.
There was once a sad incident on the San-in Expressway on the way to Shimanami Kaido where a car accelerated furiously and flashed the Orbis light, but I did nothing wrong. It is the fault of those who break the speed limit.
However, compared to luxury cars such as Mercedes Benz and BMW, I think the steering is a little lax at high speeds.
On the 120 km section of the New Tokyo-Nagoya Expressway, the handling is a bit unreliable in some areas.
However, since this is a matter of design philosophy, I do not think this is generally a bad thing.
German cars feel stiffness when driving at around 60 km/h, but I think the handling of the Mark X is most straightforward at around 60 km/h cruising.
Overall: You should buy it now that it is discontinued.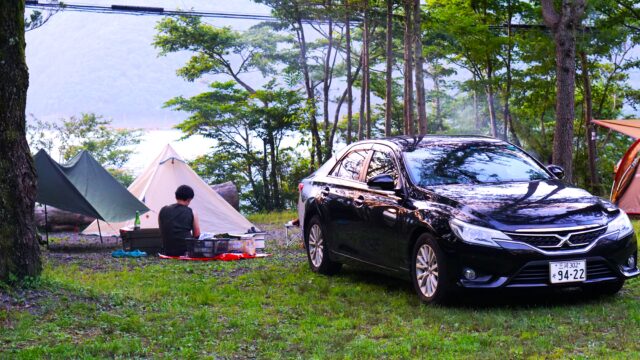 The Mark X has finally been discontinued.
The only Toyota sedans with a 3-number rating will be the Crown and Camry.
Only gasoline-powered, six-cylinder engine, RWD sedans are an endangered species.
The Mark X is a conservative car, with some old parts of its design visible.
However, the engine and chassis are well priced, and the low sales price makes it a good value.
The Mark X is a humble, but solid, Japanese sedan, and I myself like it very much.
You may still be able to get a late-model Mark X as a new car.
I don't think that a V6 engine RWD middle sedan will ever be released in Japan again.
If you are having trouble, you should go buy one now.
Used ones are cheap too!