Okuhida Onsengo Nakao Onsen "Oyado Kamitakaraso" has the best open-air bath and delicious Hida beef.
Kaoru Sugiura
Hello, my name is Kaoru Sugiura.
The other day, I went on a bike touring with my juniors.
The inn is Nakao Onsen, located deep in the mountains of Gifu Prefecture, near Shinhotaka Onsen.
It corresponds to the so-called Okuhida hot spring village.
The inn where we stayedOyado Kamitakara-so" was very good, so I would like to make it a blog article this time.
Despite staying on a Saturday, Oyado Kamitakaraso offers a high cost performance of 13,000 yen per person including dinner and breakfast.
And Okuhida hot spring village.
It also has the best open-air bath.
And dinner is Hida beef.
I jumped at the inn because it was cheap and looked good.
A good place to stay
A dish that boasts Hida beef and magnolia miso
The good thing about this inn is that the food is excellent.
This time I ordered the Hida beef plan.
Hoba miso is a local dish around here.
Shiitake mushrooms, green onions, and miso are mixed in magnolia leaves.
This simple but rich miso is so exquisite that you can eat several bowls of rice with just this one.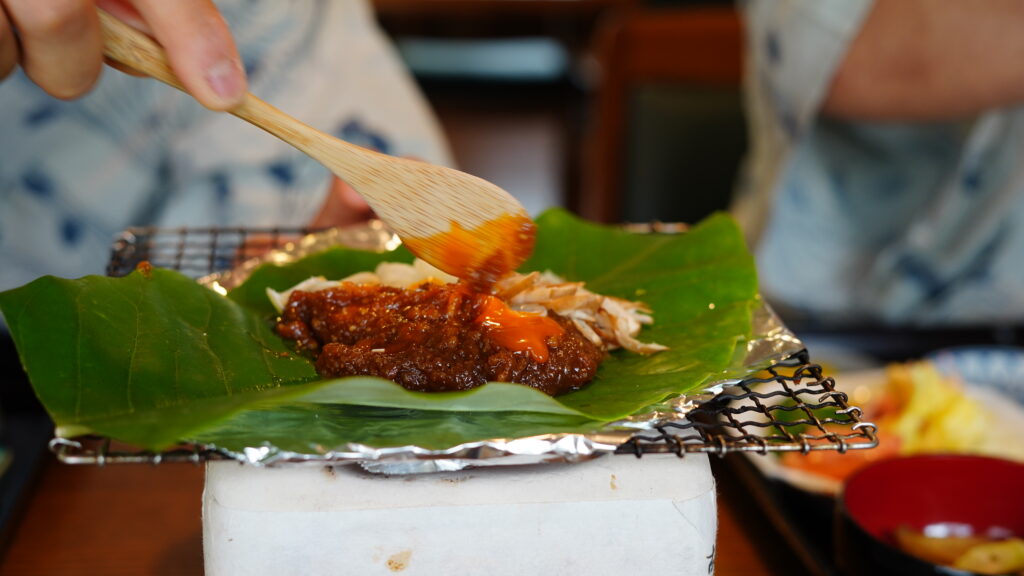 You can mix Hida beef with such exquisite magnolia miso.
Furthermore, I stayed at the end of May, so I had seasonal char-grilled with salt…!
It was light, soft, and perfect.
Open-air bath with a wonderful view
There are 3 baths at the Inn Kamitakaraso.
Because there were few customers this time, everything was reserved for replacement.
Moreover, all three places have open-air baths.
Among them, one bath is the best.
Once outside the inn, open the door.
Then there is an open-air bath that is 4 meters square.
It's like a hot spring in Ghost of Tsushima.
The surrounding area is covered with maples, so it turns bright red in autumn.
In winter, you can enjoy the snowy scenery.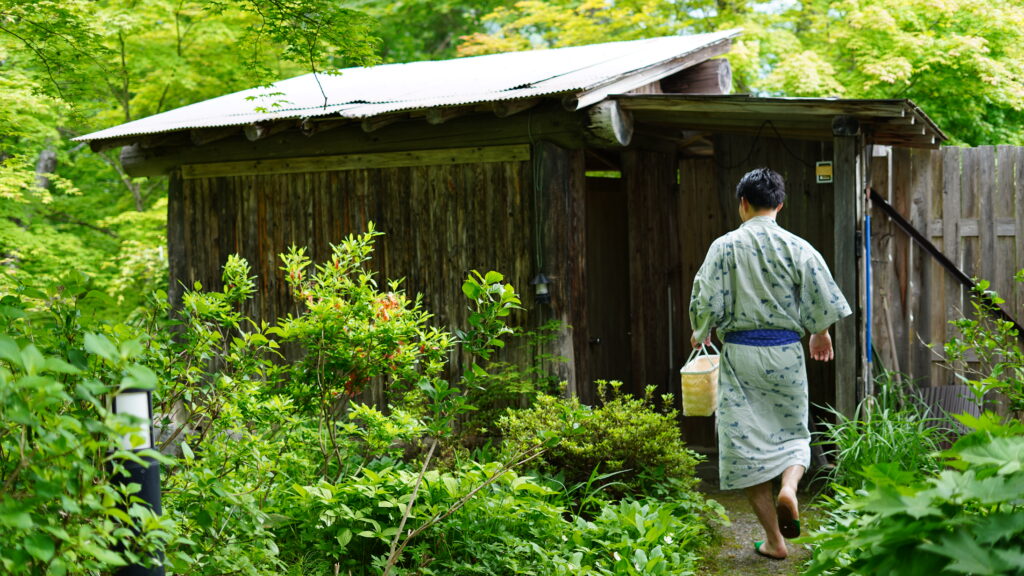 The best hot springs in Okuhida Onsengo
I don't recommend it as an inn, but the hot springs at Oyado Kamitaraso are free-flowing.
This can be easily imagined from the fact that each bathtub does not have a filtration device or a circulation device.
That's no wonder, the amount of hot water in Okuhida Onsengo is one of the tops in Japan, along with Beppu.
Other lodgings may not be particularly conscious of it, as it is natural to have free-flowing water.
Because the source is hot, they only add water.
The water is almost neutral and has a slight sulfur smell.
Even though it was hot, it felt good even if it was in for a long time.
According to the people at the inn, it is difficult to adjust the water temperature due to the drastic fluctuations in water temperature throughout the day.
The hot springs were really hot during the day.
Close to Northern Alps Bridge and Shinhotaka Ropeway
There is a motorcycle-riding Instagrammable spot in the immediate vicinity.
Northern Alps Bridgeor, Shinhotaka RopewaySightseeing spots such as
These can be reached within 10 minutes by motorbike.
Famous for mixed bathing in the neighborhood hot water of Shinhotakaand cheap open-air baths,Hot water of KojinThere is also
It is also recommended as a base for sightseeing spots.
Summary An inn far away but good value for money! Also for bike touring!
Shinhotaka is in the Northern Alps.
quite a secret.
It takes about an hour from Takayama.
If you use the expressway, it takes about 3 and a half hours from Nagoya, and about 5 hours from Tokyo.
Honestlytransportation is what is good I can't say
However, you can enjoy one of the best hot water in Japan and Hida beef.
As an inn, it is somewhere between an inn and a pension where the toilet and washbasin are shared.
The food is delicious and there is local sake, and the scenery of the hot springs, especially the open-air baths, is top class even for me, who has stayed at a hot spring inn for about 100 nights.
This is 1 night with 2 meals 13,000 yen exceptional.
Oyado Kamitakara-so, It was the best.
Please stay here!